A Smoothie a day…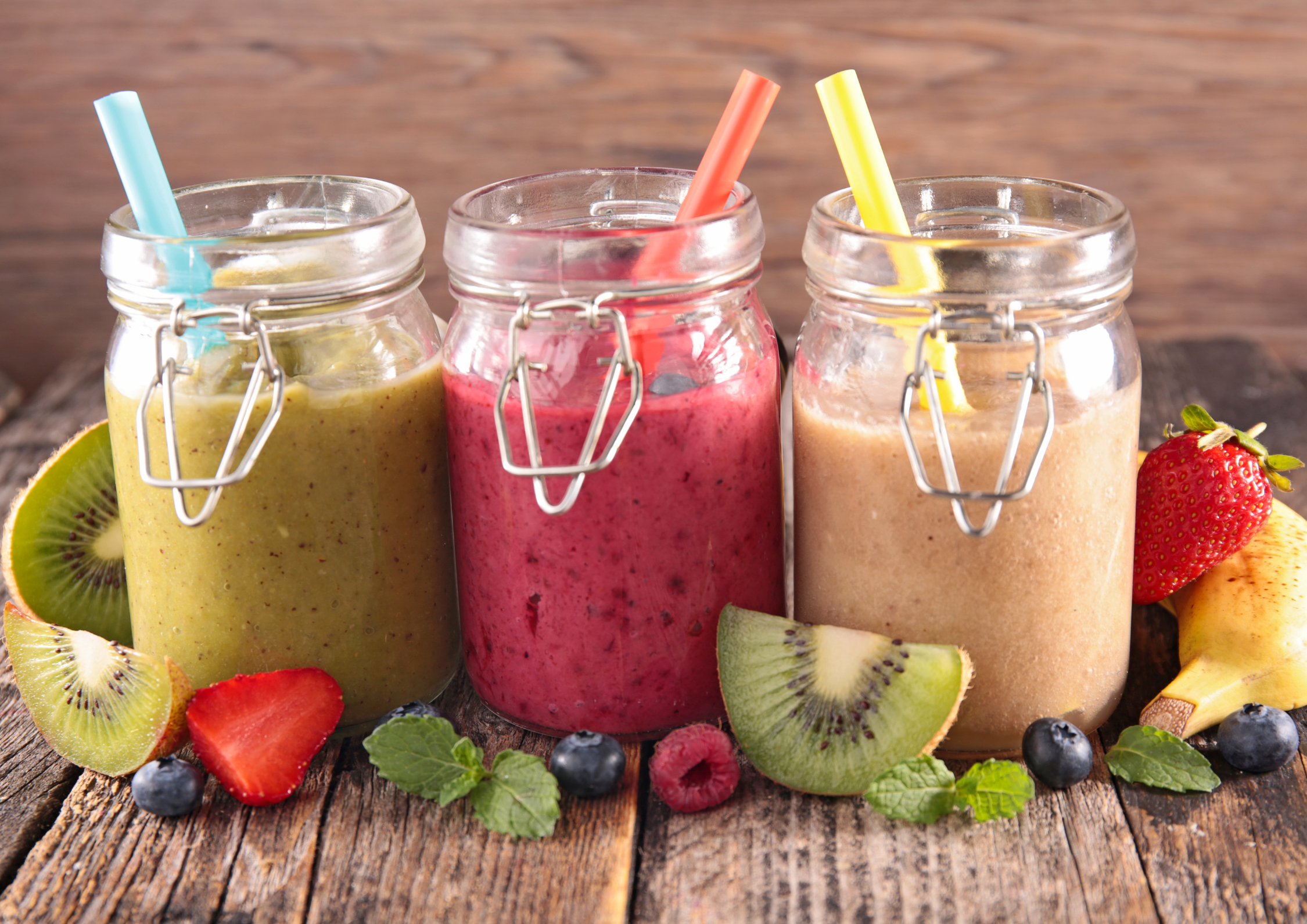 I LOVE smoothies. I almost have 1 a day. I'm not sure if I like the fact that it's a quick nutrient dense meal to cater to my busy lifestyle of raising 4 active kids or that I sincerely do enjoy drinking a meal.  
I wouldn't claim a smoothie a day keeps the doctor away, especially with sugar-laden store-bought or store-made smoothies, however, a protein-packed, low-sugar smoothie is a great way to start your day and break your fast. Consuming a high-protein meal as your first meal of the day is proven to aid in healthy metabolism.  
Home-made >>> store-bought  
I avoid swinging by Smoothie King or Tropical Smoothie to get my smoothie fix due to cost and contents. You have to be careful with those places as they are more skilled at smoothie marketing than smoothie making. Not only will you drop $8-10 for one drink, but you'll also think you are ordering the healthiest, greenest, most organic smoothie on the menu, but instead consuming almost 100 grams of sugar in one pop!  
I won't mention which store, but did you know that a 32 oz Immune Builder Veggie Superfood Smoothie with all organic ingredients has 98 grams of sugar?!?! 😳 Not only is it high in sugar, but low in protein with only 5 grams of protein. That "healthy green smoothie" is an insulin bomb waiting to hijack your metabolism!  
This is why I stay home and create my own. Saving on cost and promoting my health.  
Here are my 2 favorite recipes for smoothies: 
Chocolate PB Monkey 
½ frozen banana

 

1 cup almond or any nut milk

 

1 scoop chocolate protein powder (see suggestions below)

 

1 T. ground Flaxseed

 

1 T. nut butter (I love Costco's brand Mixed Nut Butter)

 

Dash of cocoa powder (if I'm craving a more chocolaty taste)

 

Add Ice and Water to your liking

 

Optional: extra collagen protein

 
Mixed Berry  
½ frozen banana

 

½-¾ cup frozen mixed berries (blueberries, raspberries, blackberries, strawberries)

 

½ cup coconut water (careful, can be high in sugar if using too much)

 

½ cup coconut milk or nut milk

 

1 T. ground Flaxseed

 

1 Scoop Vanilla Protein powder (see suggestions below)

 

1/2 cup of frozen organic spinach or kale

Add Ice and Water to your liking

 

Optional: extra collagen protein

 
Protein powders can be hard to decipher and determining which one to use is a question I often get from clients. I like to use pea protein vs. whey protein. Whey is in the dairy family and my goal is to consume less dairy if I can. If you have lactose sensitivity, pea protein is the way to go. Organic is best, but the goal is to find one high in protein (20g or more) with fewer fillers and preservatives.  Here are some brand suggestions. 
$ Over-the-counter brands: Orgain, Vega, Ancient Nutrition 
$$ Online Ordering: Primal Kitchen, Shakeology 
I use Shakeology because not only is it a protein-packed meal (20g/serving) but it's also a meal replacement including pre and probiotics, adaptogens, and superfoods with vitamins and minerals. It won't be your most affordable protein powder, but still a better option than the smoothie stores! 
Here's to saving money and our metabolism! What's your favorite smoothie recipe?